IoT GIS Instruments
Delivering IoT Device & Technology for easly and realtime Mapping and Surveying
Geo & GIS Solutions
Solution to Agriculture, Mining, Hidrography, Smart City, And Environtment Issue
EnviroGIS Academic
Improving human resources to spatial, location, and environment analytical for everyone.
Surveying and Mapping device with IoT ready for multi purpose  Industrials
Agriculture with GIS and IoT Technology to imprve your company
Cadastral, Civil, Construction, Geo Surveying and Data analysis
Mining and Energy complete GIS Management Solution for  Industry 4.0
Indonesian Goverment Management Assets with custome solution
Digitalisation Toursm in Indonesia with geography information system management
Business planner with geographyc information system to reach your goal
Navigation hardware & cloud system with high accuracy for movement assets
Let us introduce ourselves
A few words about us
TechnoGIS is a Geospatial technology company with superior low-cost survey tool products, cloud mapping software and geospatial data mapping and analysis services from Indonesia.
One of the best geospatial startup company in South East Asia with focusing on environment problem and bring solution to natural disaster, degradation foresty, land mapping and surveying, mining and energy also smart city.
Appointments
Make schedule today to communicate with our specialist
Meeting
Always sharing and communicate with client to bring solution
Solutions
Delivering technology and solution with professional specialist
Yogyakarta. TechnoGIS Indonesia Berhasil Menyukseskan Acara Wirausaha…
https://www.technogis.co.id/wp-content/uploads/2023/08/IMG20230818154106-scaled.jpg
1920
2560
Bintang Kejora
https://www.technogis.co.id/wp-content/uploads/2023/08/LOGO-TECHNOGIS_PNG.png
Bintang Kejora
2023-08-25 10:30:08
2023-08-25 10:46:54
TechnoGIS Indonesia Berhasil Menyukseskan Acara Wirausaha Merdeka Kampus 2023 di UGM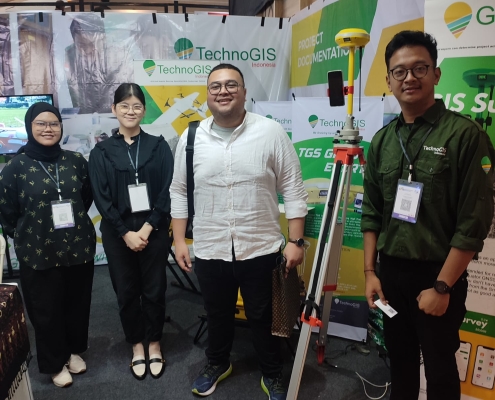 TechnoGIS Indonesia Memeriahkan Acara Indonesia Drone Expo (IDE)…
https://www.technogis.co.id/wp-content/uploads/2023/08/IMG-20230812-WA0040.jpg
1200
1600
Bintang Kejora
https://www.technogis.co.id/wp-content/uploads/2023/08/LOGO-TECHNOGIS_PNG.png
Bintang Kejora
2023-08-21 10:49:52
2023-08-24 19:56:23
TechnoGIS Indonesia Memeriahkan Acara Indonesia Drone Expo (IDE) 2023 di Jakarta
Yogyakarta - Summer Antwerp School telah menjadi acara prestisius…
https://www.technogis.co.id/wp-content/uploads/2023/08/IMG-20230731-WA0027.jpg
867
1156
Bintang Kejora
https://www.technogis.co.id/wp-content/uploads/2023/08/LOGO-TECHNOGIS_PNG.png
Bintang Kejora
2023-08-04 10:47:33
2023-08-04 10:47:33
Mengeksplor Inovasi dan Kolaborasi dari TechnoGIS Indonesia dalam Summer Antwerp School